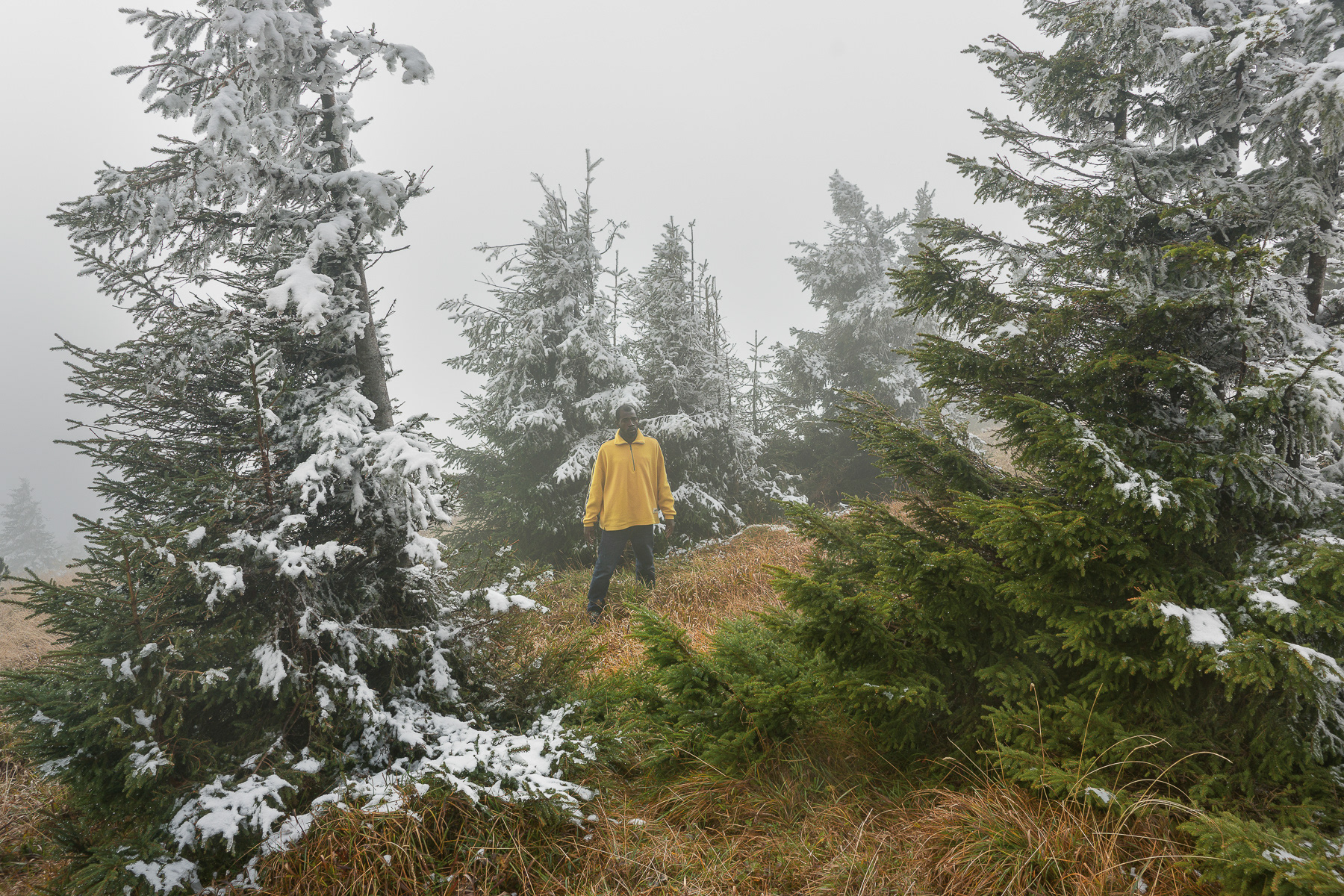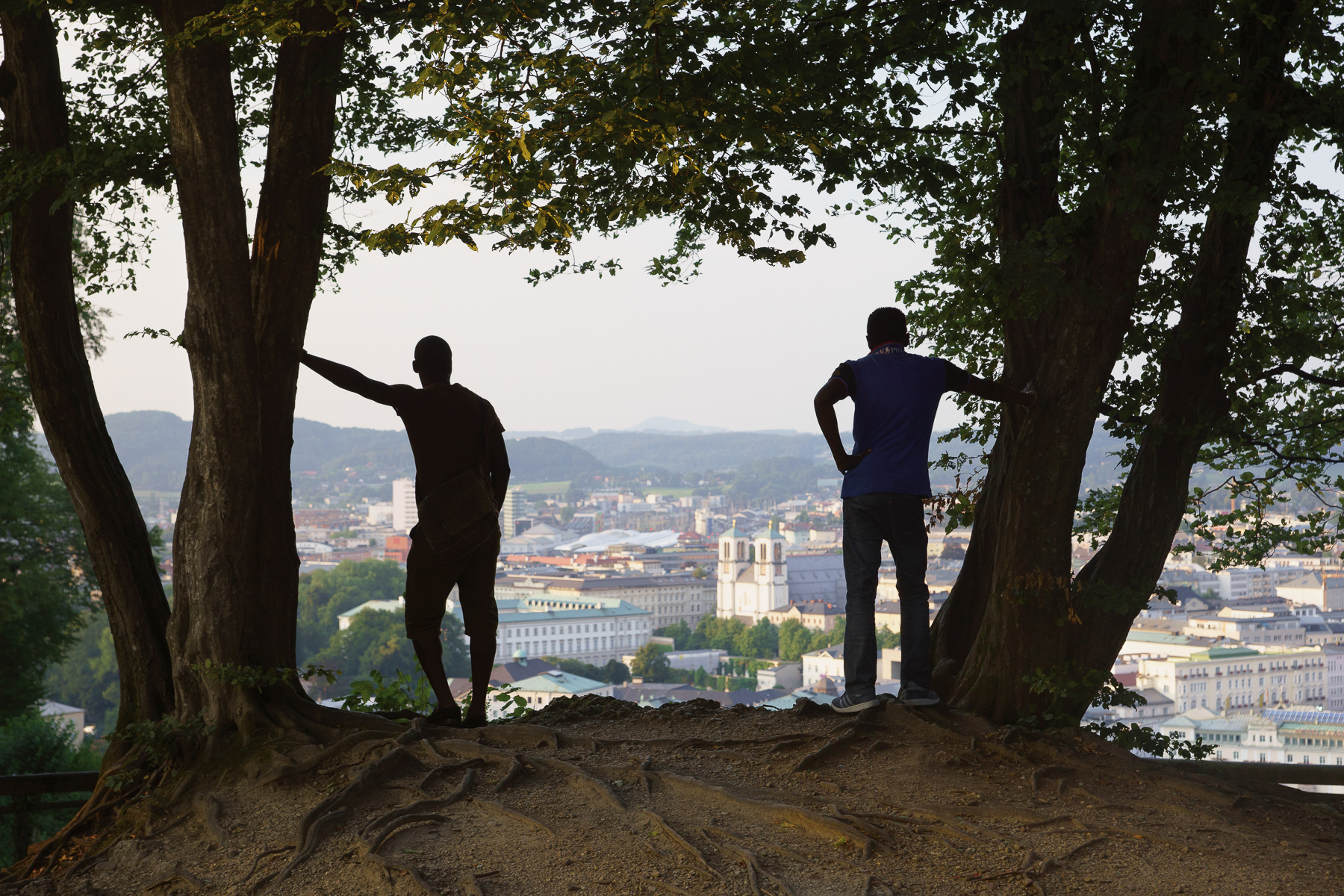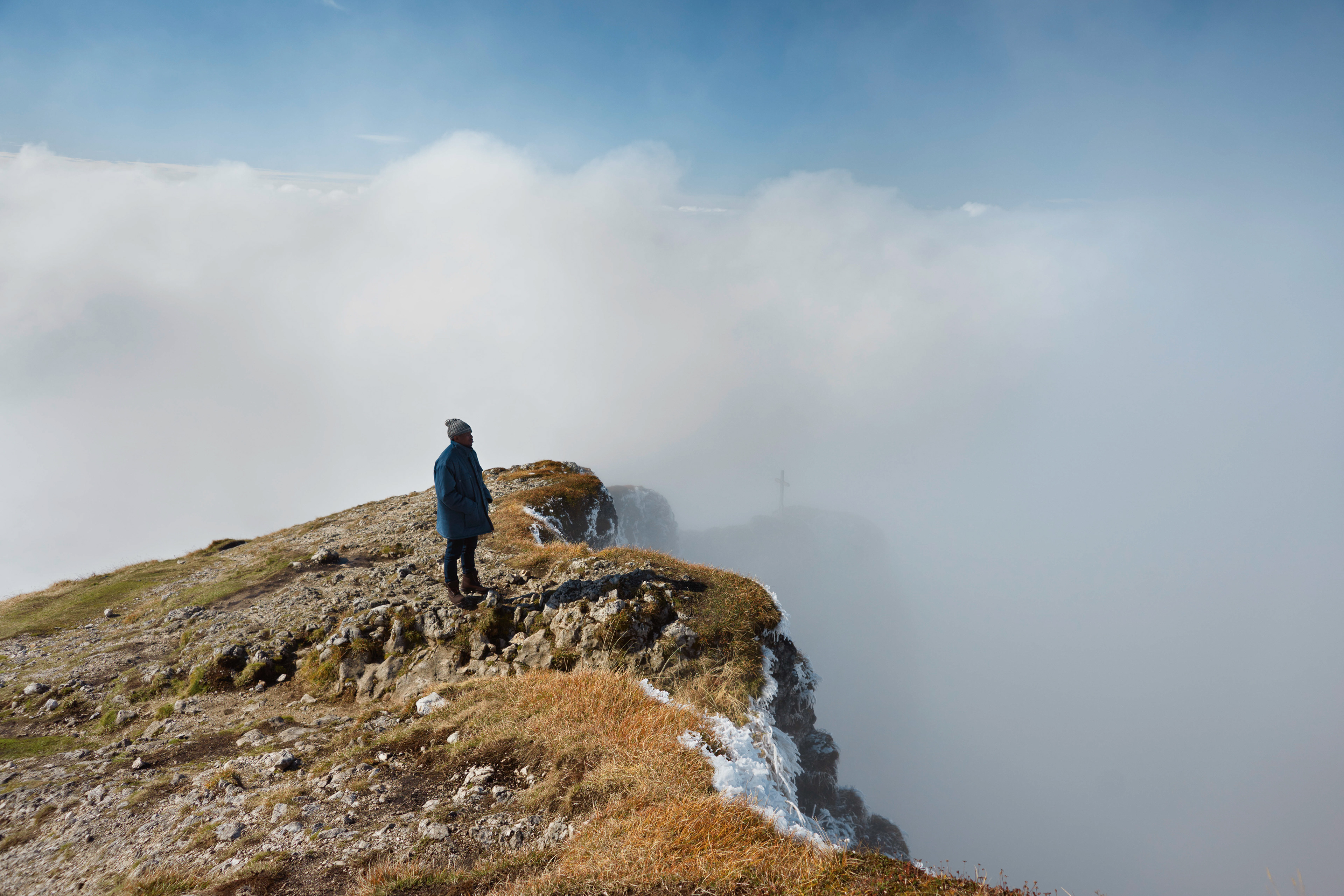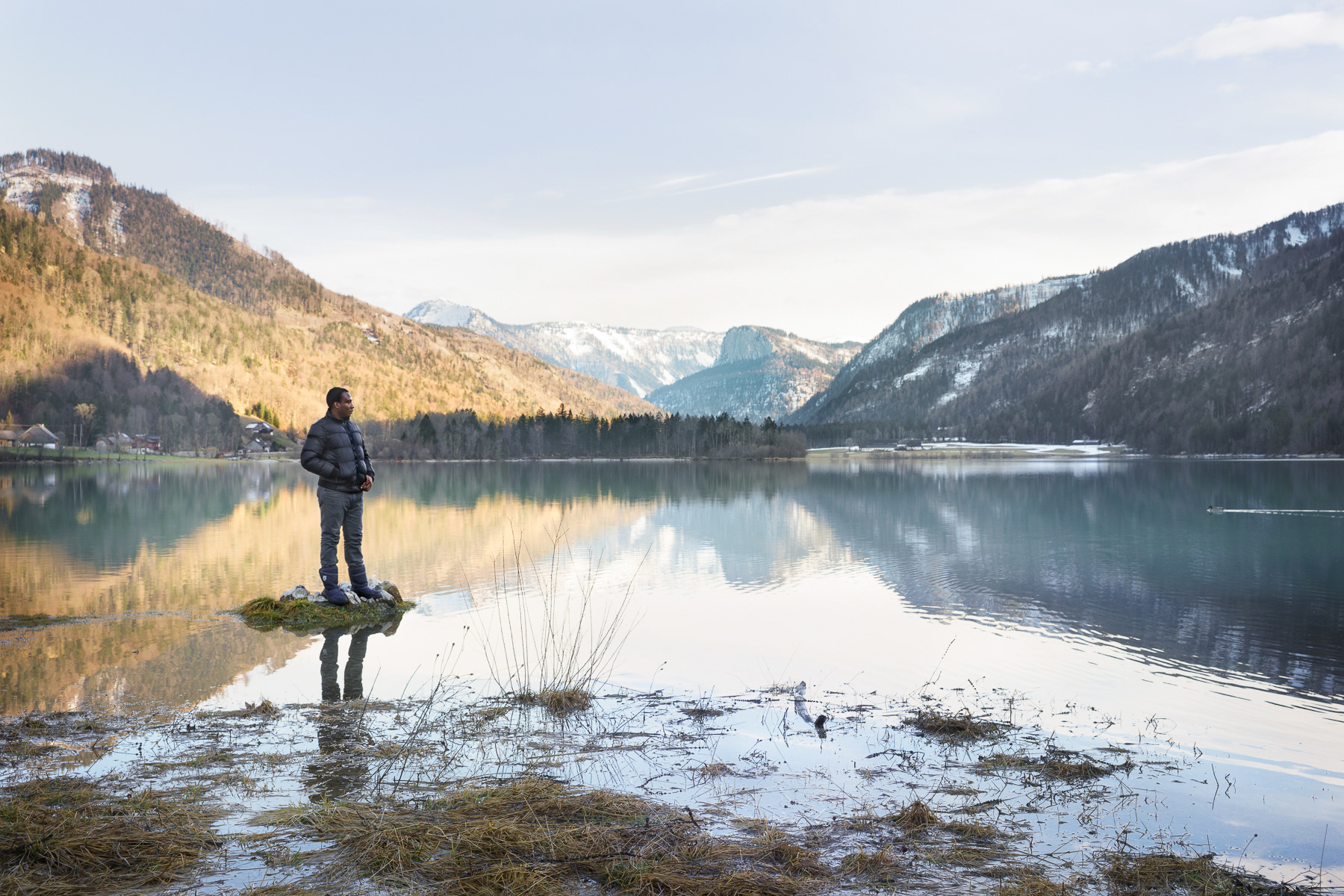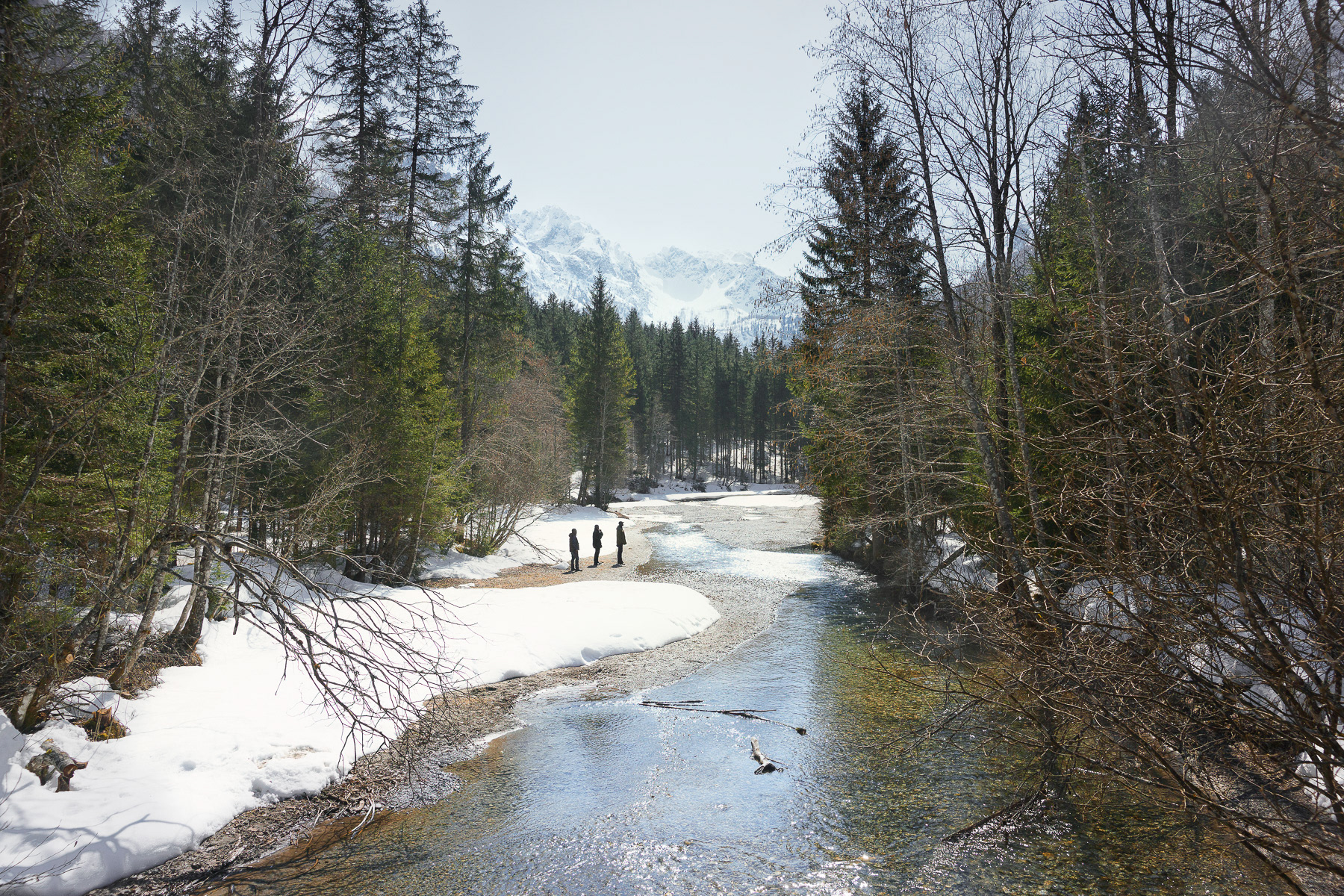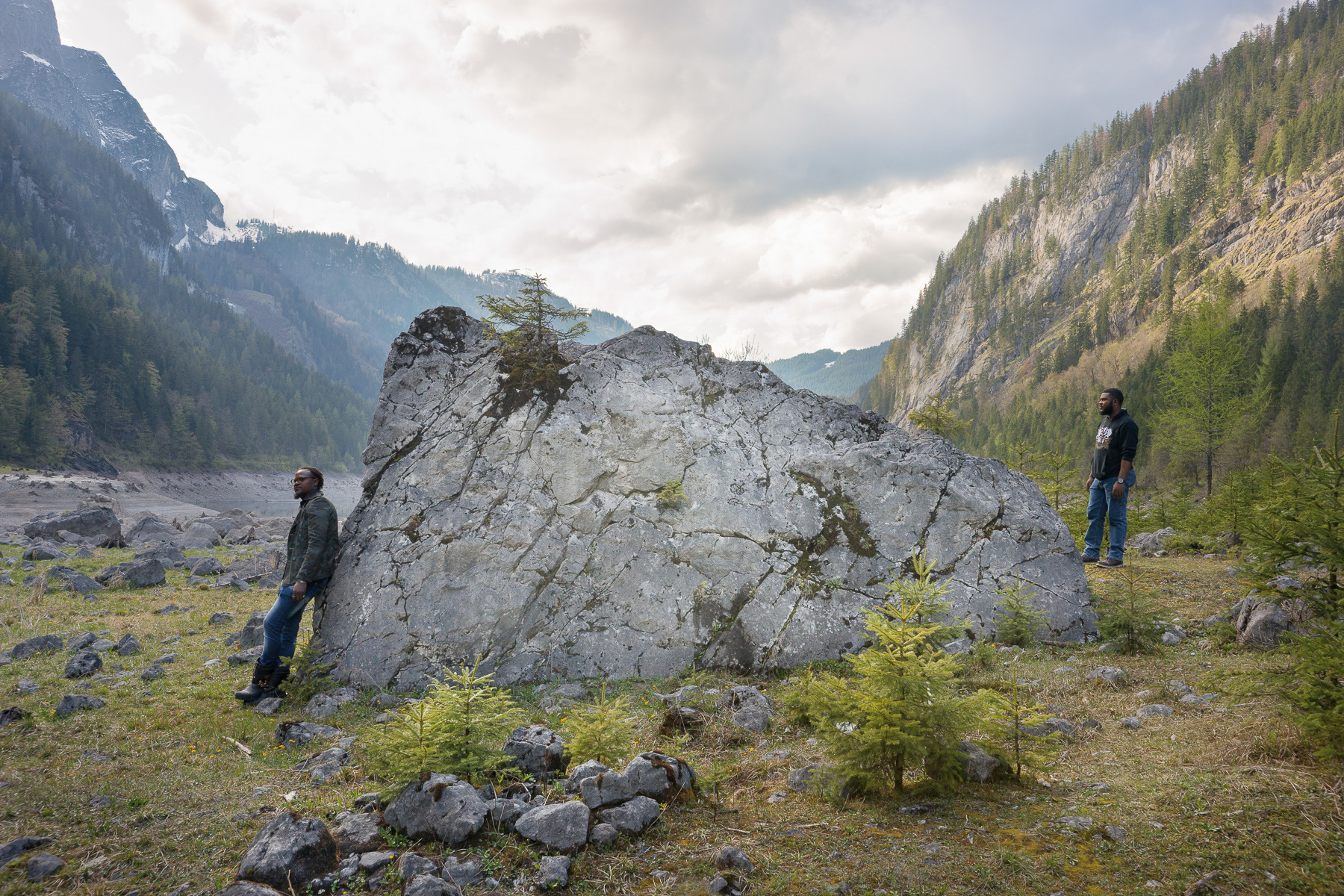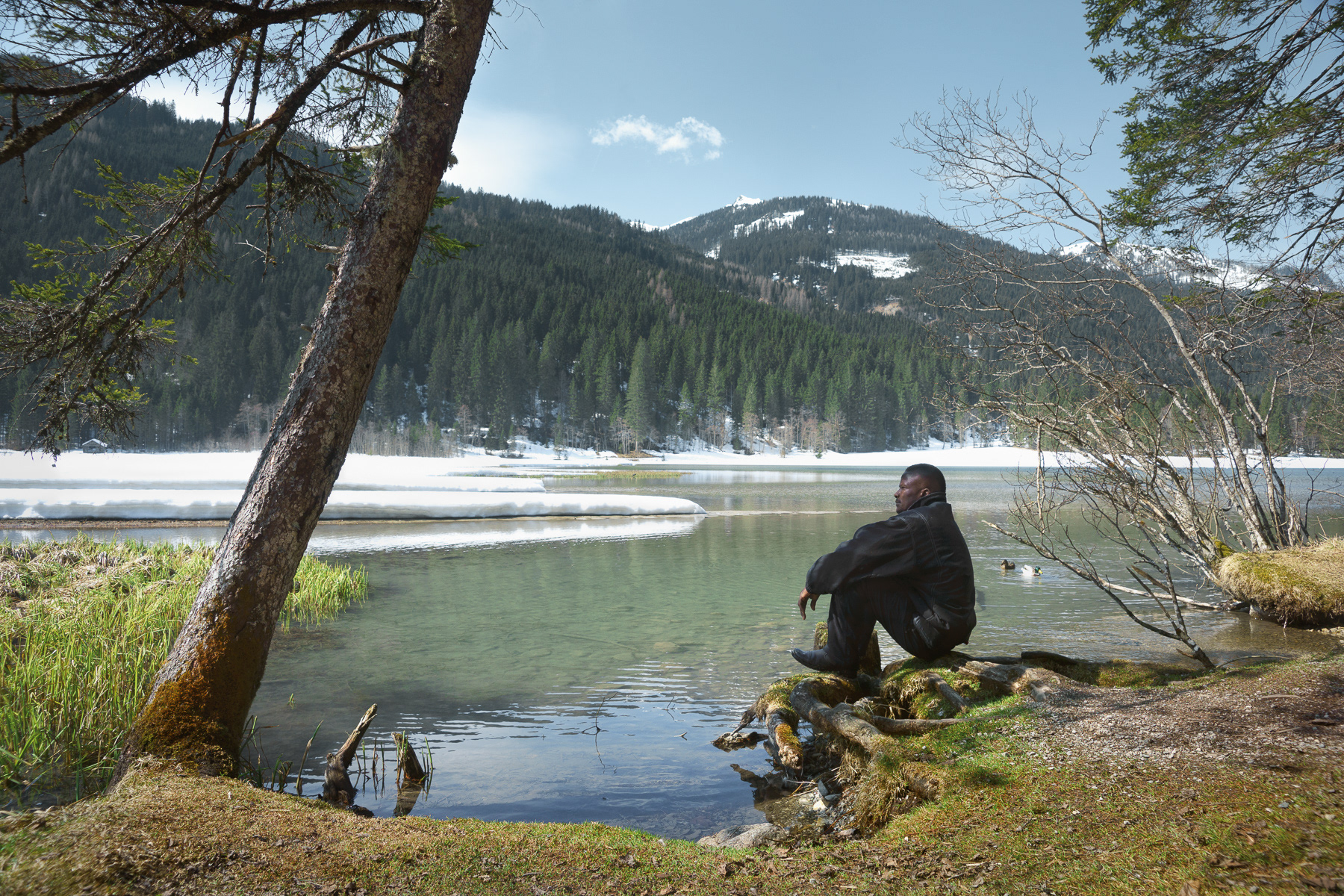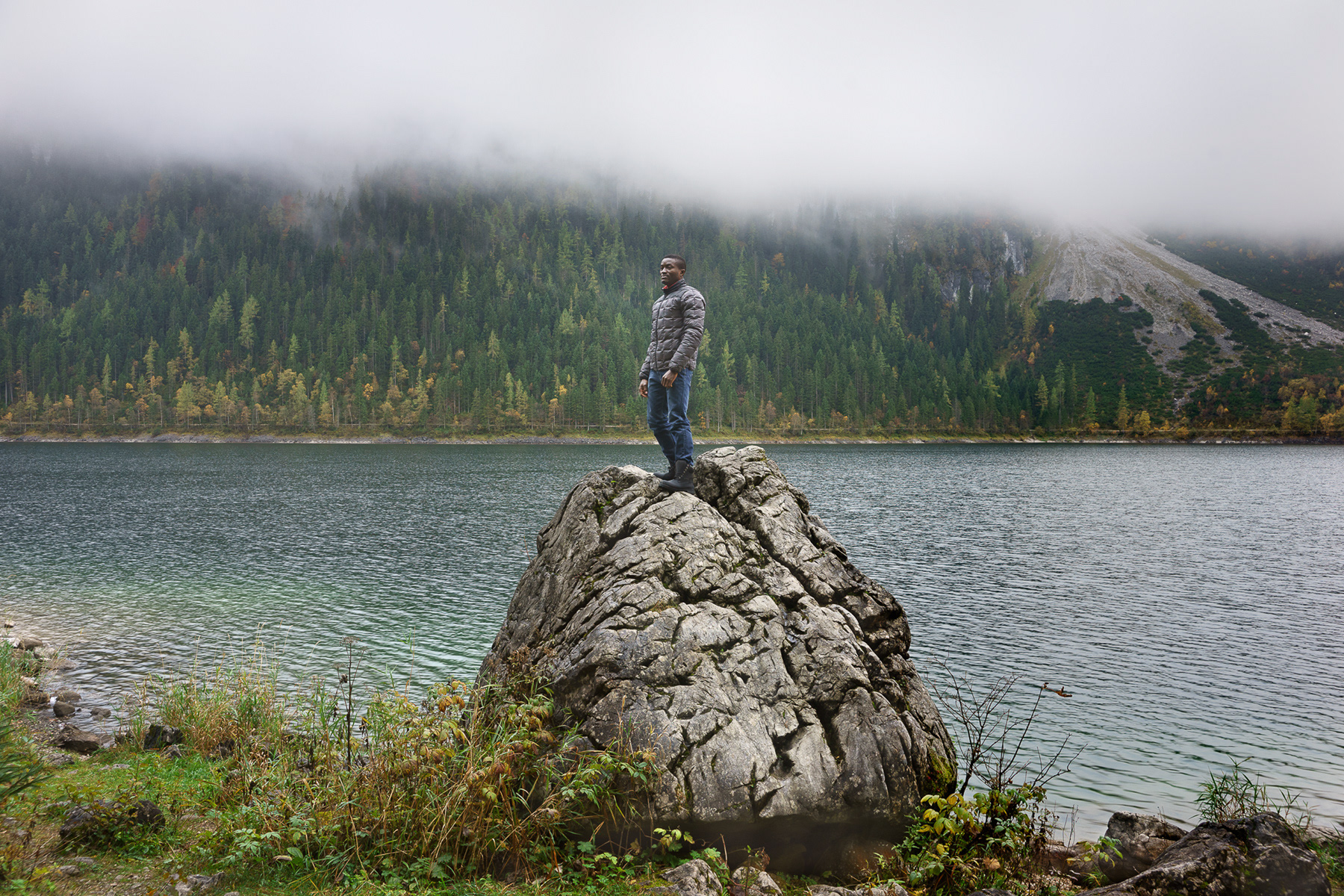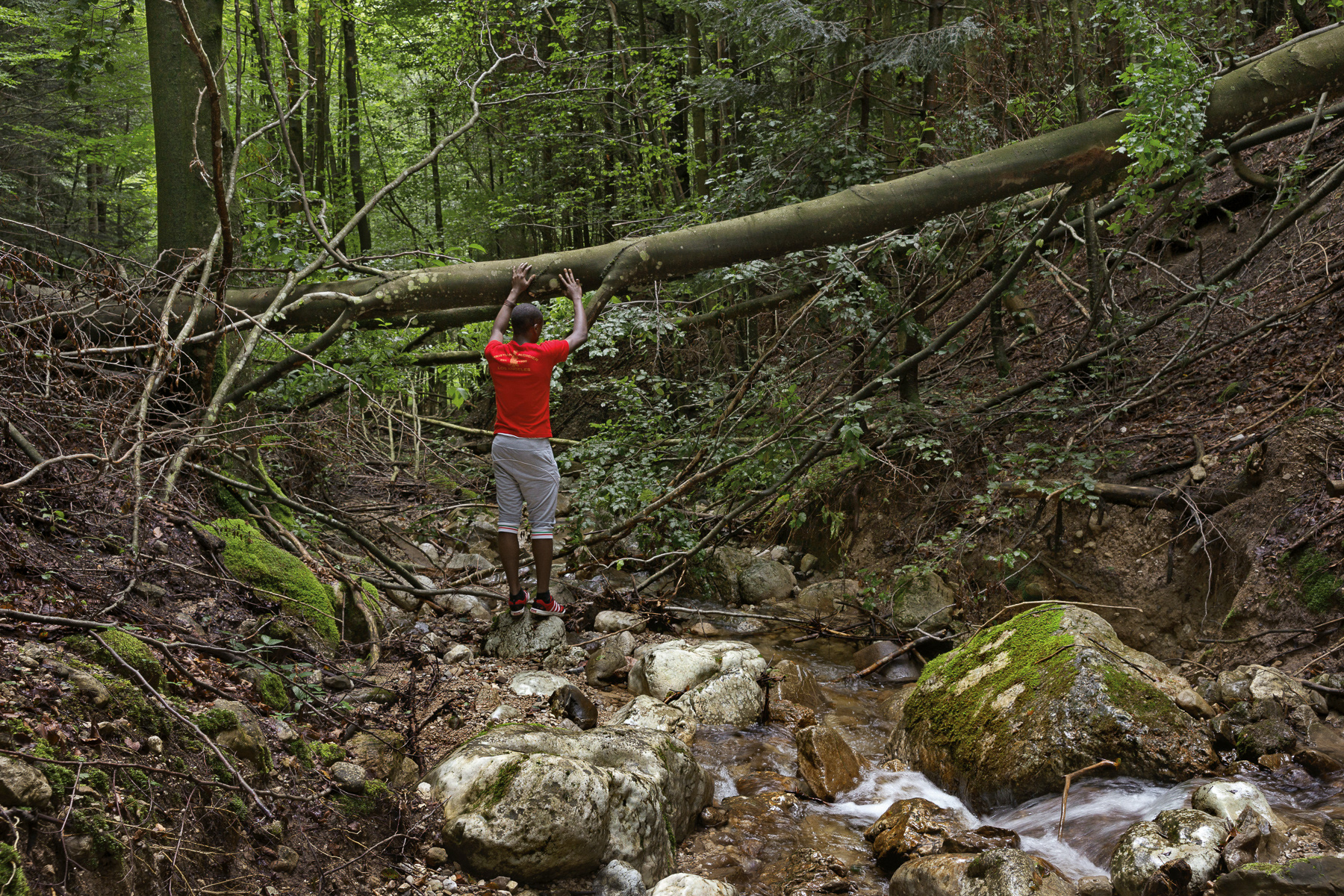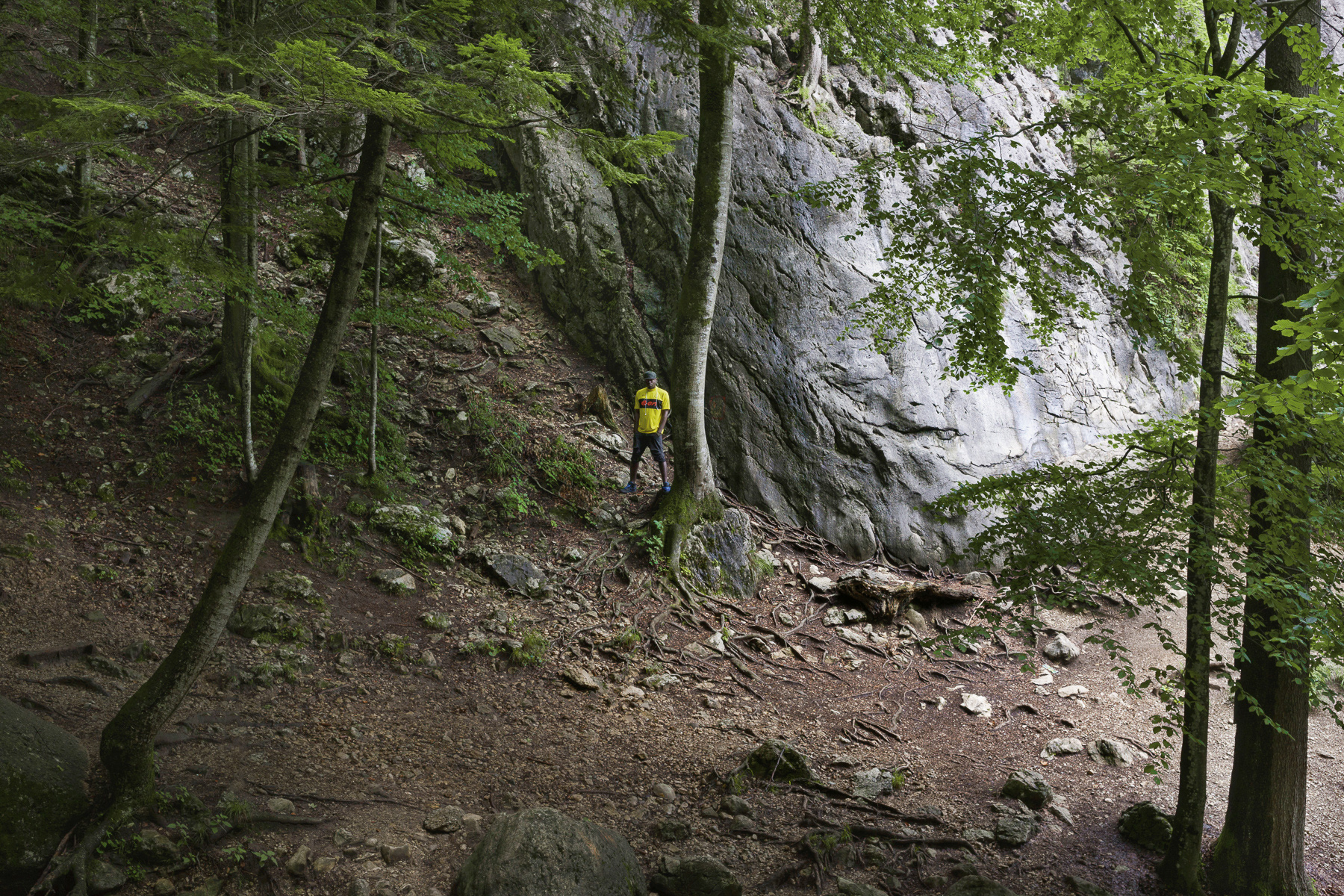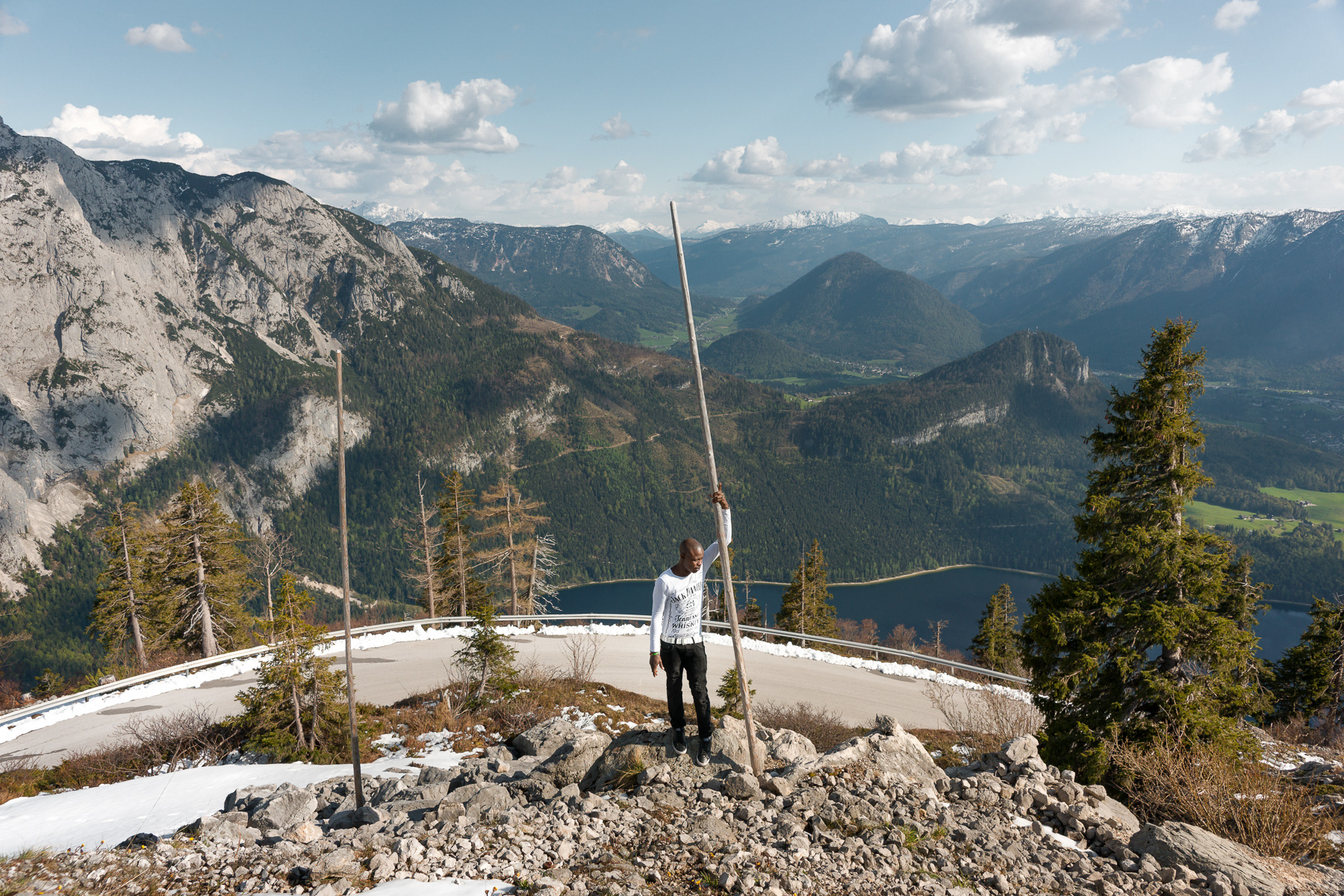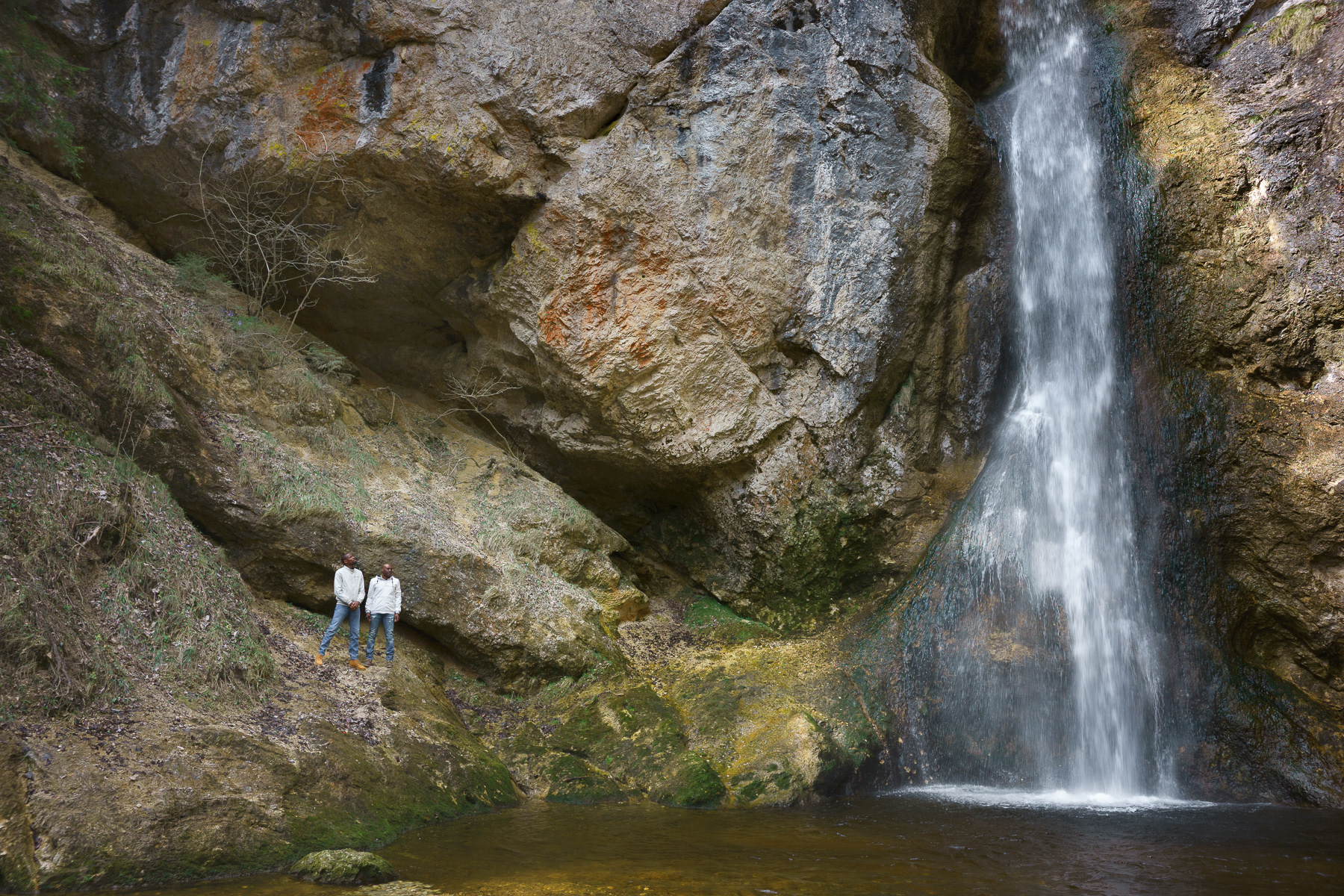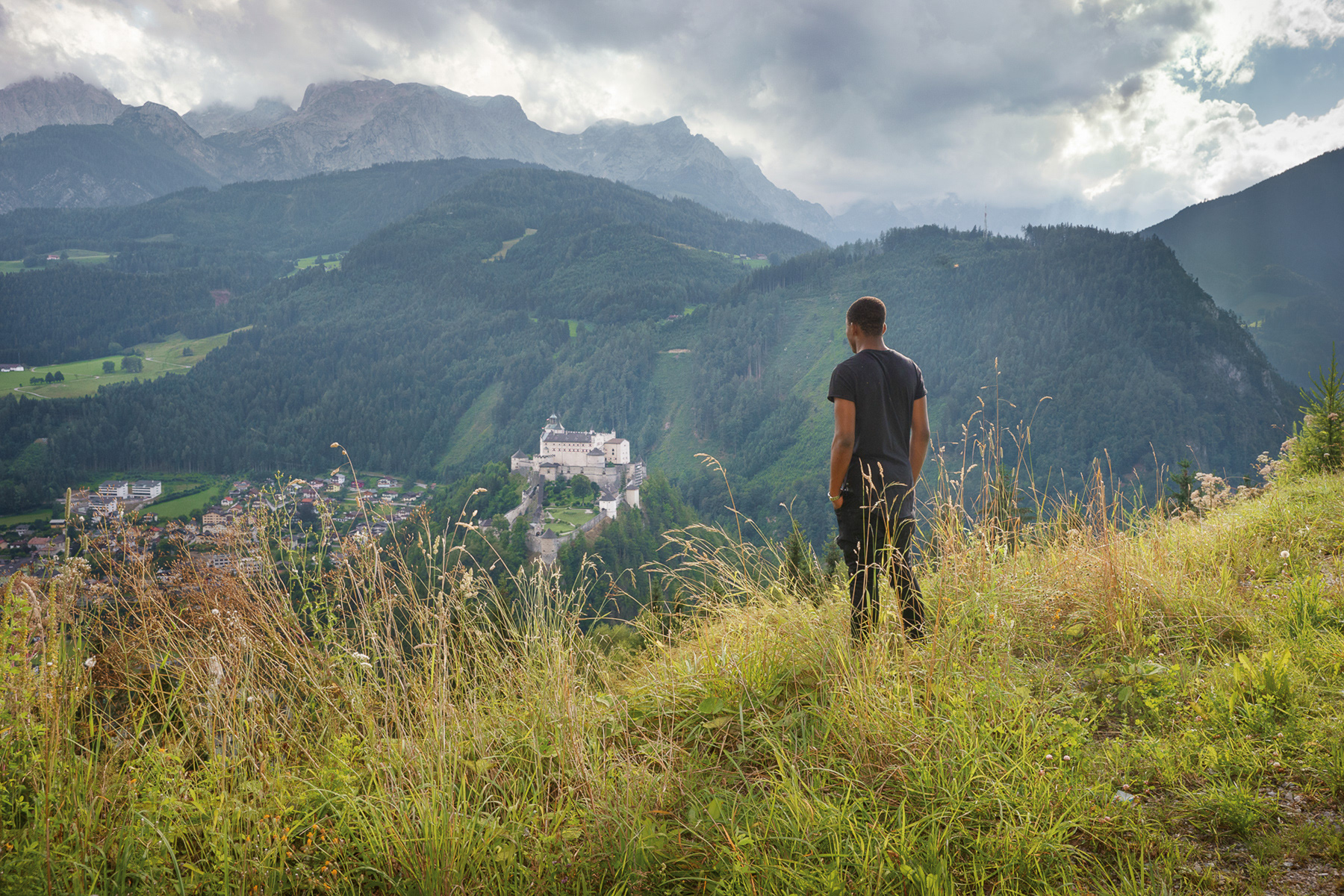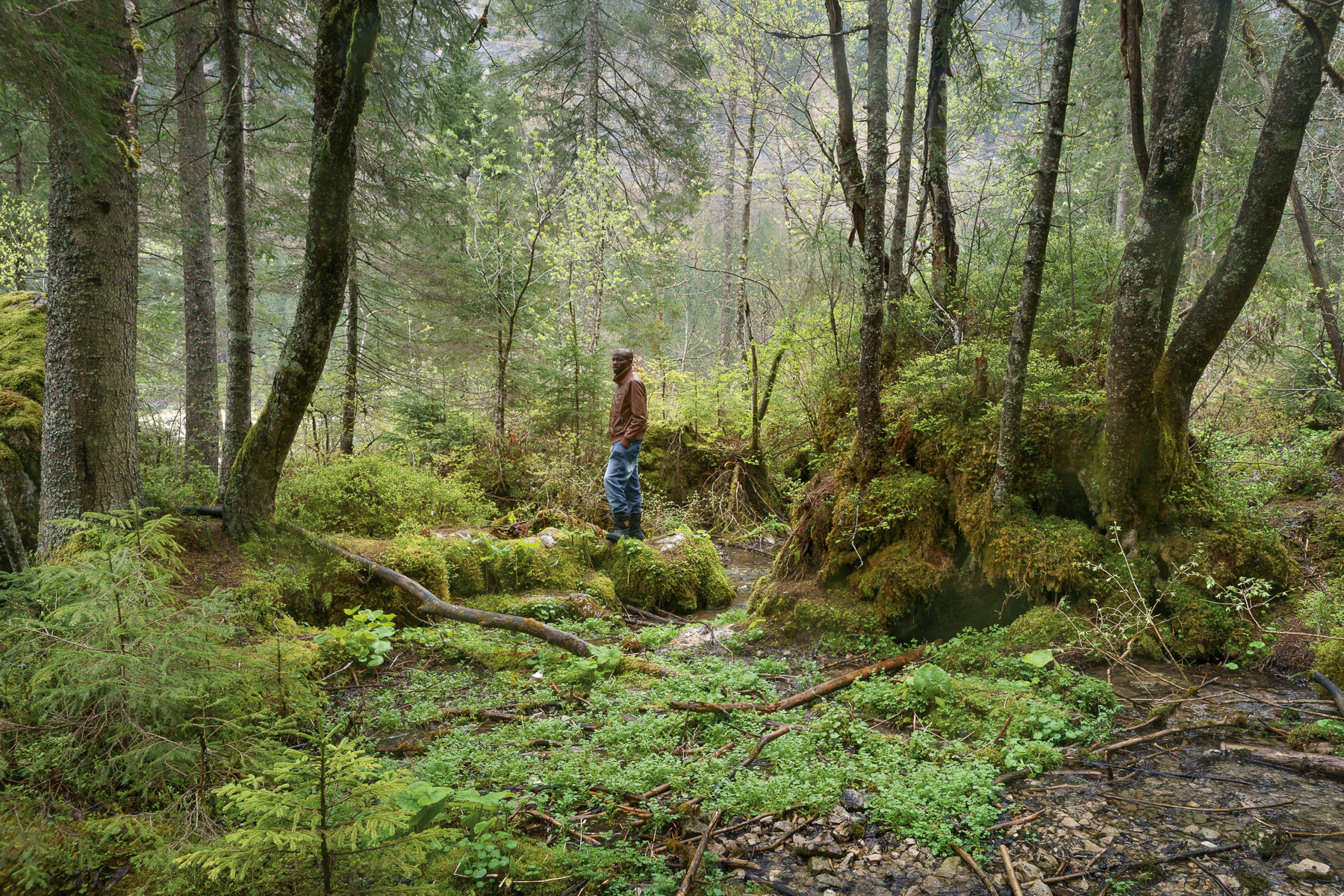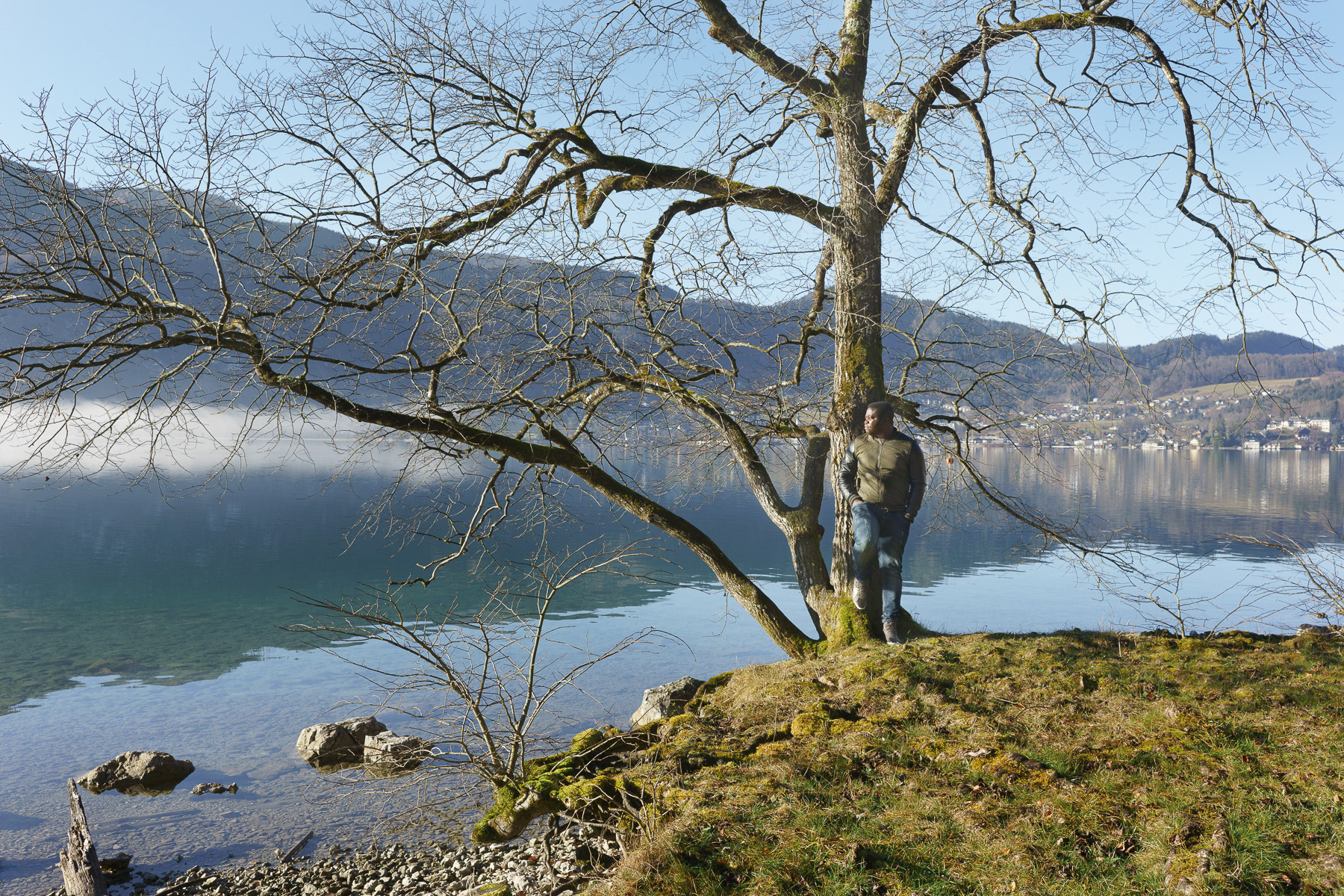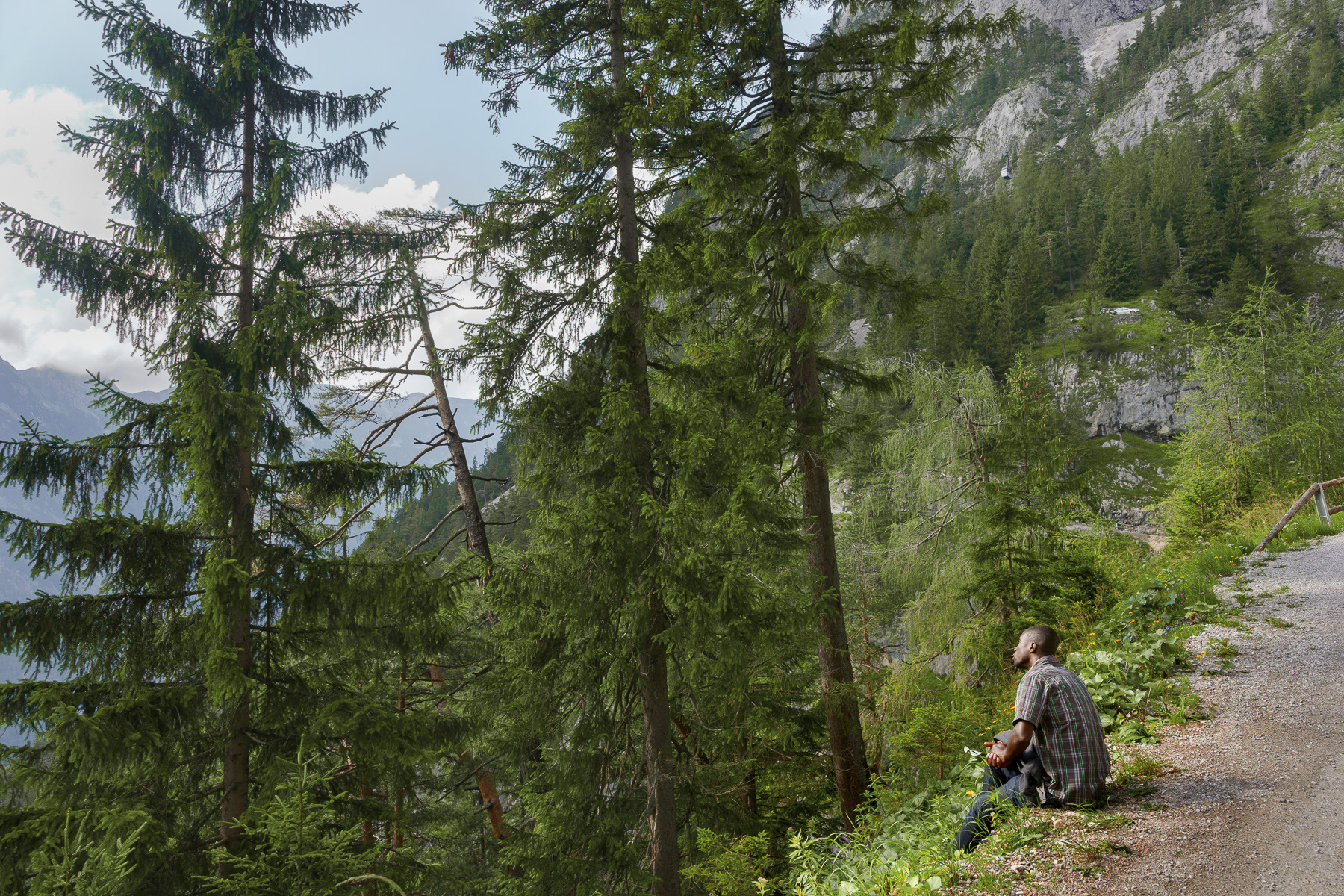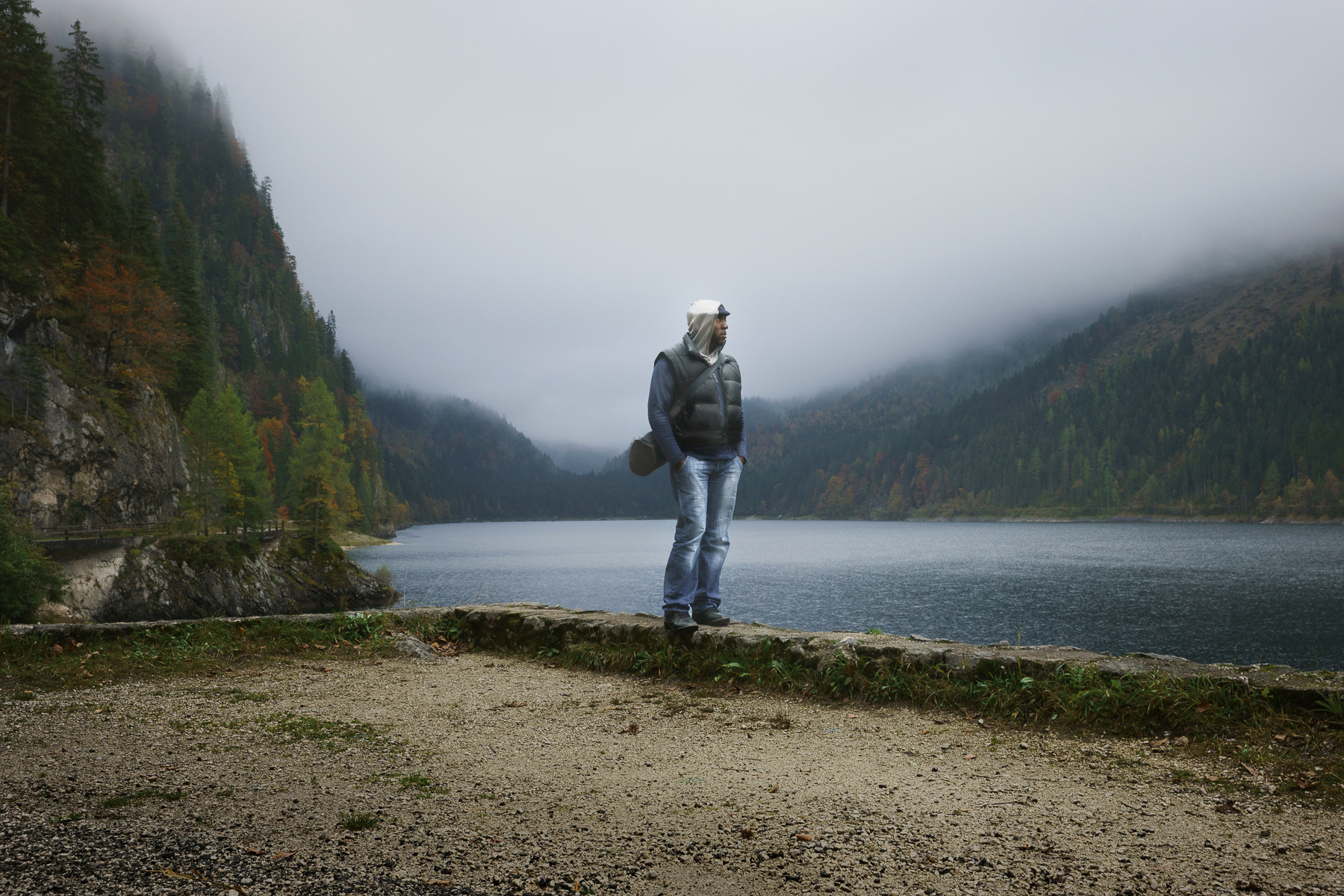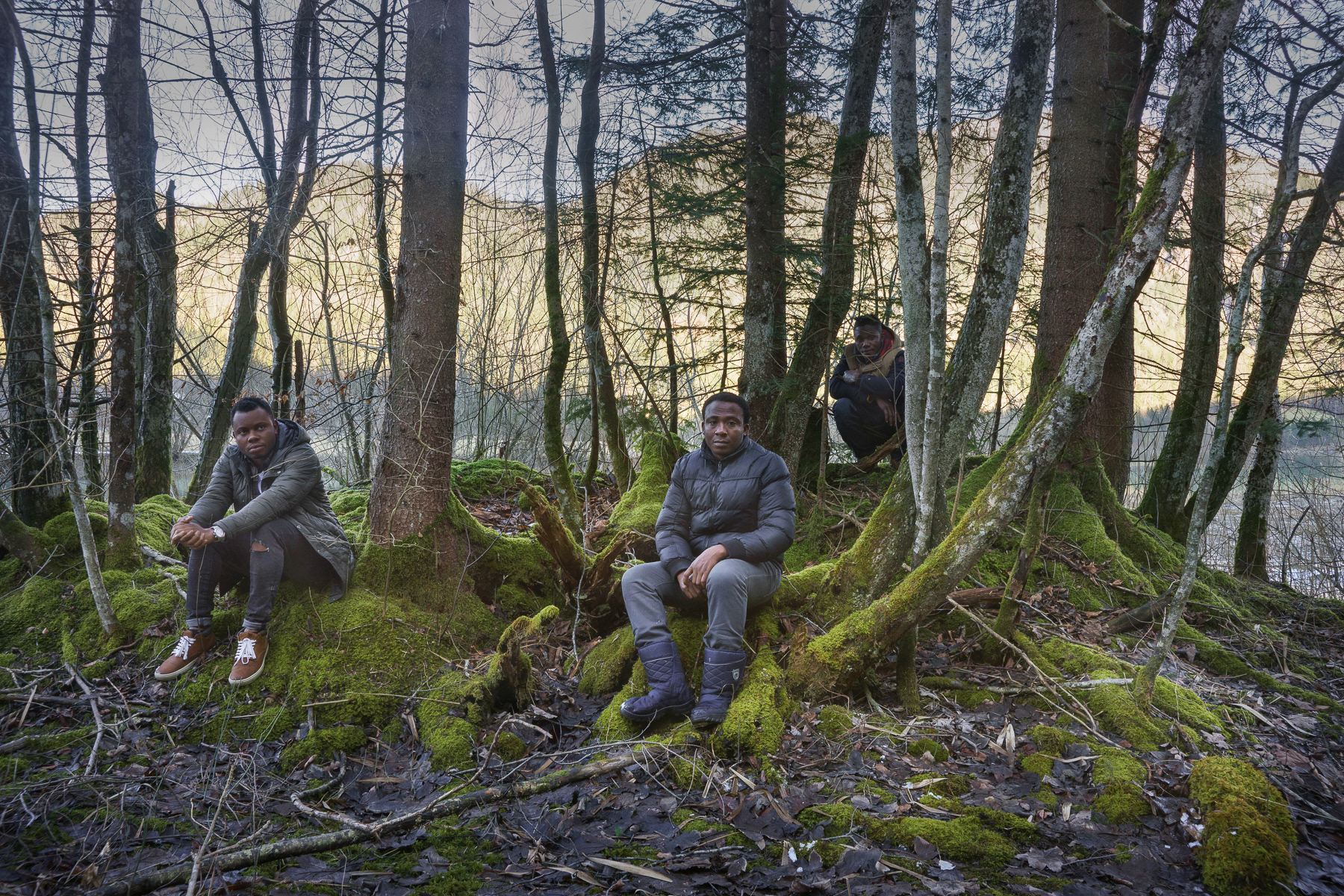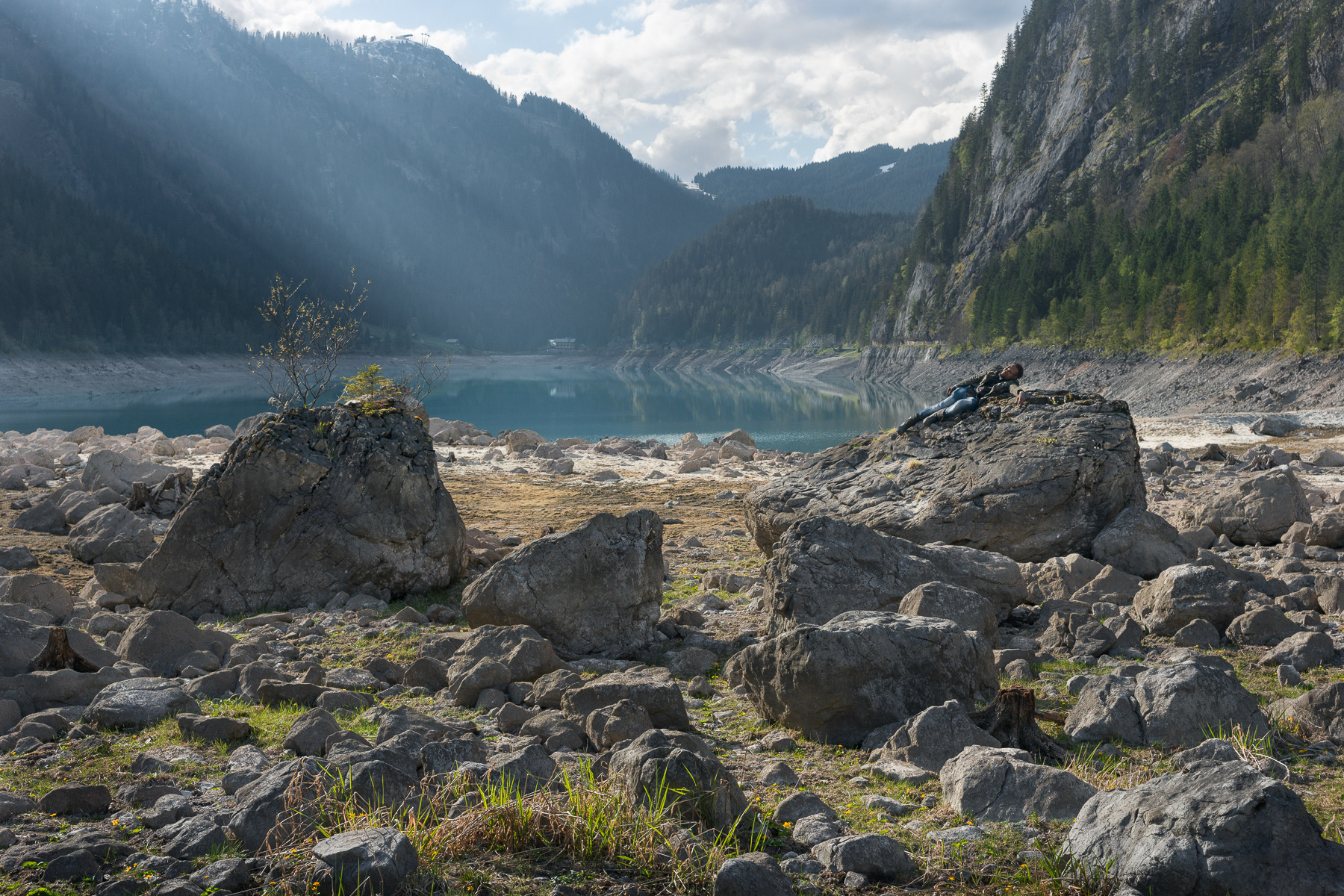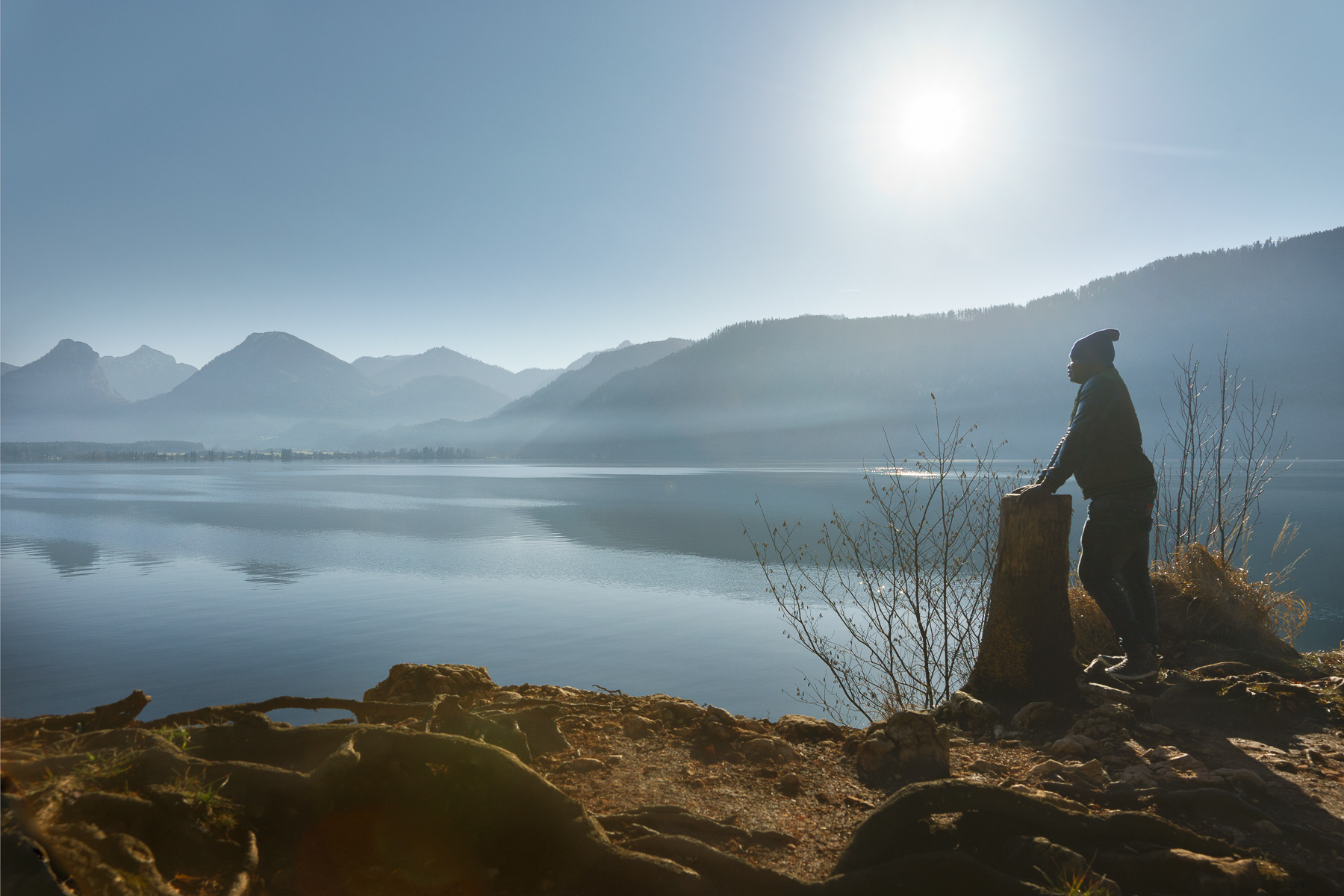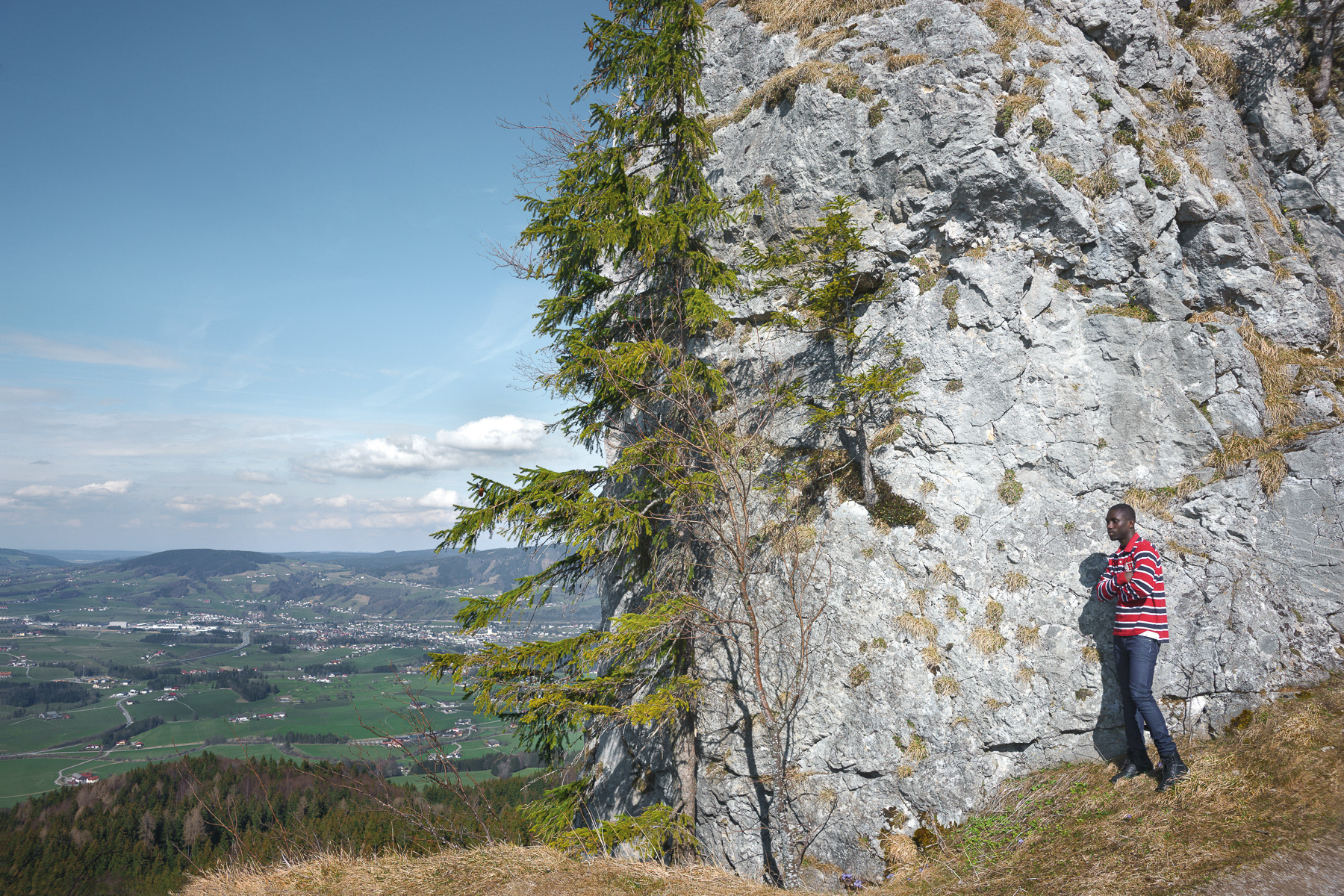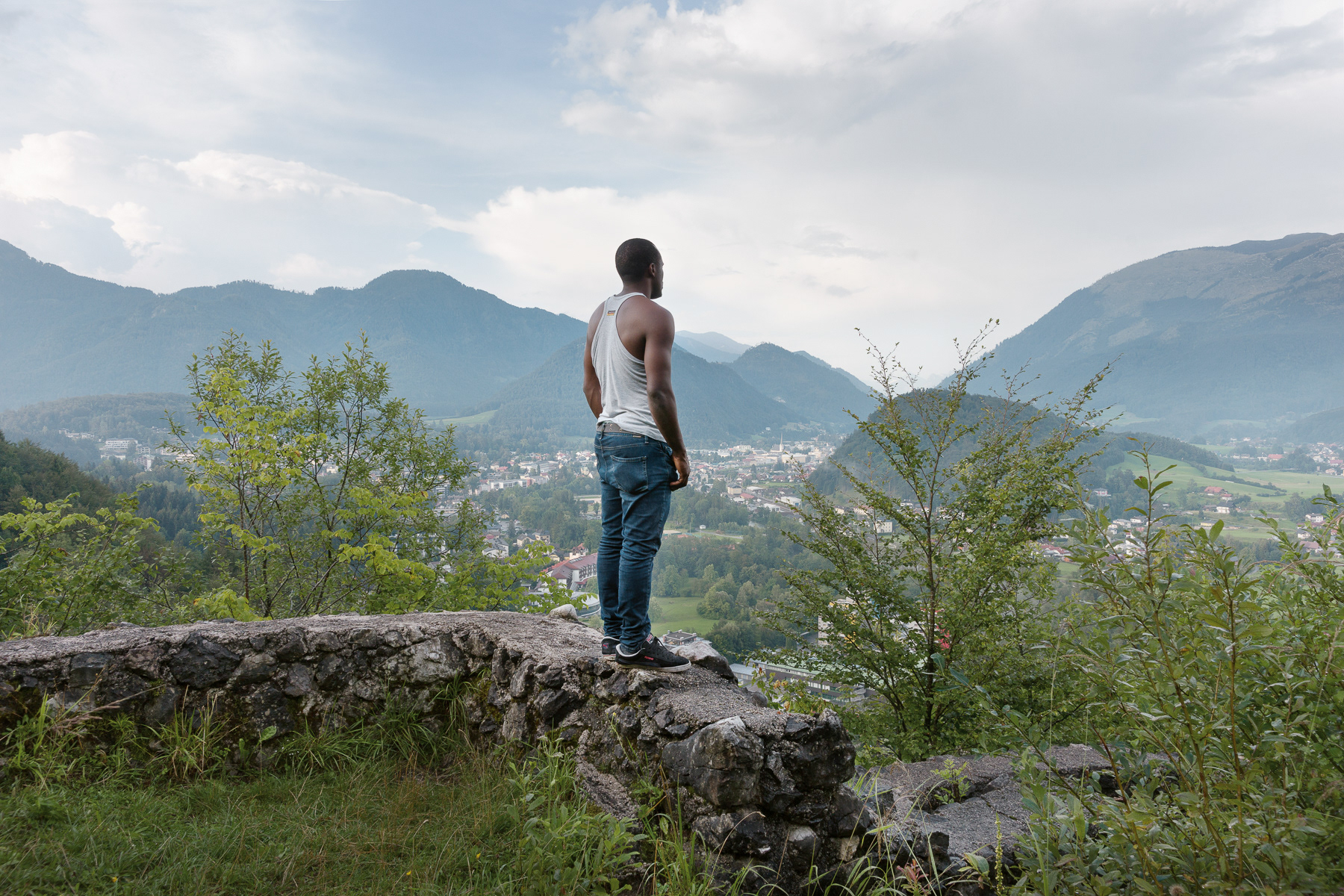 Ekaterina Sevrouk: Fremd bin ich eingezogen
 Text Prof. Martin Hochleitner
For her project entitled Fremd bin ich eingezogen [I came a stranger] Ekaterina Sevrouk photographed male refugees from Africa in natural environments and partly exposed alpine regions of Austria. She began the series in 2015, and it now comprises around 80 photographs. The project, which is located mainly in the landscape of the Salzkammergut region, is predicated on in-depth discussions between the artist and the refugees. Sevrouk's presentation and explanation of the specific idea behind the photographs at asylum camps provide the starting point for a process of communication in which the artistic intent of a photographer is interlaced with the self-image of the refugees and their self-perception within the framework of the project. So, in this sense, every photograph is also the result of a real effort to establish a relationship, one that mediates respectfully between Sevrouk's staged image concept and the subject status of the refugees in the chosen setting.
The title chosen for the series (
Fremd bin ich eingezogen) draws on Franz Schubert's lieder cycle Winterreise [Winter Journey] set to poems by Wilhelm Müller. It opens up a space of references and allusions to the images that are reflected very specifically in the iconography and impact of the photographs. The songs were composed in 1827 and describe the Passion-like journey of a wanderer between exuberant joy and hopeless despair. They are regarded both as a key work of German Romanticism and of the subtle political criticism with which Schubert was responding to the reactionary restoration politics of his day. Where Schubert used the piano to express the stranger's melancholy and soul-state, Ekaterina Sevrouk uses the resources of photography to create a mood and atmosphere of otherness and alienation. It is specifically because she draws on historical 19th century painting concepts of romantic experiences of nature and sentimental expressive art for the overall impact of her photographs that the African refugees become repeatedly connotated allegories of the strange and alien: 'displaced' in Austria's natural environment and its mountains, 'displaced' in time, too, isolated emotionally, and as set pieces in a European art history of the 19th century that pursued its concept of Romanticism in parallel with the colonial exploitation of, among others, the African continent and its people.
The result is a series of photographs that contrasts people's fateful life story with an aesthetic of dignity and transports the themes of escape, migration and asylum itself into a transitory state between image and reality – also in the sense of continuing that winter journey: 'I came a stranger; a stranger I depart.'
Artist's statement
I am particularly interested in the lives and circumstances of migrants and refugees. This is due in part to my own life story and my experiences as an immigrant, but also to the influence of the journalistic war photography of my father Sergey Sevrouk, now deceased, whose name I chose as my artist's name.